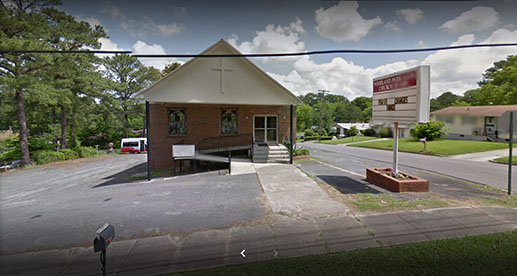 Our previous building (1960-2004) - front view
Our previous building - side view
Left to right, both images: Some of WPCoC's original members - Bro. Simmie Mayes, Bro. Jesse Boyd, Sis. Bertha Boyd, Sis. Patsy Lawrence, Bro. John Lawrence, Sis. Ocie Mickens, Bro. Fred L. Mickens, and Bro. John Black and Sis. Rachel Black.
A Brief History of the Woodland Park Church of Christ
A local YMCA was the site of the first Woodland Park Church of Christ worship service. The small group of Christians comprising the Woodland Park congregation held its first building fund drive in March 1958. Major Kolb, Simmie Mayes, Jesse Boyd, Pleas Rutland, Robert Brown, Roscoe Cole and Sam Ikner were selected as trustees to oversee the building fund. Construction began on the church building at Woodland Park in August 1960. Ninety days later, construction was completed and the first Sunday morning services were held in the new building. Sam Ikner delivered the first sermon and continued his service as minister until his death.
Other ministers were Allen Davis, Evans Hulett, Dallas Walker and Fred L. Mickens. Bro. Mickens ordained the congregation's first elders in December, 1971 - John Black and Jesse Boyd. Later, Simmie Mayes (1978), Dennis Steverson (1994) and Paul Woodard, Sr. (2003) were ordained as elders. J. W. Pitts was chosen as assistant minister in 1985. Bro. Mickens also ordained deacons - Bruce Lee (2000), Paul Woodard, Sr. (2000), Willie Davis (2003) and Kenneth Hairston (2003).
In January 2006, Bro. Pitts became the minister of Woodlard Park and Robert L. Beeman, II became the assistant minister later in the year. Bro. Pitts ordained Walter Hicks, III as a deacon.
In July 2002, ground was broken for the current facility on about 4 acres of land in the Heritage Towne Center. The first worship service was held in February 2004. In 2009, a Future Growth Steering Committee was formed to explore, plan and develop programs and facilities needed to accommodate the future growth of the congregation. Woodland Park members support several ministries, as well as an Academic Christian Excellence Committee. In November 2010, the congregation enjoyed its "50 Year Celebration".
The leadership of the congregation was expanded when four deacons were ordained by Bro. Pitts in December 2011 - Leo Looney, Henry McGowan, Marshall Thomas and George Turner. Later in 2016, another deacon - Ray Hildreth - was ordained.
In October 2015, God again blessed the congregation to break ground on the Woodland Park Christian Learning Center, and construction was completed in 2016. This Center will prepare children for educational and spiritual excellence. Currently, it is being used for Bible Bowl preparation and other classes. As we look forward to our future, we continue to trust in God and rely on His love, His goodness, His grace and His guidance.
Please review images from our 50th Anniversary retrospective!
Scroll down further to see the thumbnail images below at a larger size. Click on any thumbnail image you want to view
at a larger size. Click outside of the image frame to return to the thumbnails.